TOOLS FOR YOUR SAFETY RITUALS

The Safety talk® is a tool to animate a safety ritual, for example a 15mn talk. It is a communication kit made of 2 posters to invite the team to have an open discussion about a topic, exchange as a group, come up with concrete solutions, and close the meeting by taking a collective commitment.
Its aim is to develop the safety culture of your staff in an efficient and sustainable way.
The major advantage of this tool lies in the fact that it is based on the human factor and will help you change your staff practices.
Graphito best seller and also the most used safety tool in France!
The Hazard Hunt® is a poster representing an illustrated work environment. Participants are challenged to detect the risks and dangerous situations and to find the associated prevention measures. At the end of the session, the team decides to take, in a collectively and for a month, one or two simple and immediately achievable commitments.
It is a fun, participatory and dynamic tool.
We have more than 120 existing Hazard Hunt®
Use Hazard Hunt® for: newcomers' inductions, safety talk, safety challenge, safety days and trainings.
We recommend:
– For a collective use: an A1 size with a kit of magnets for a collective use,
– For individual use: via Prevenline® our HSE platform.
As for all of our tools, you can personalize it with your logo or graphical chart or create your own hazard hunt®.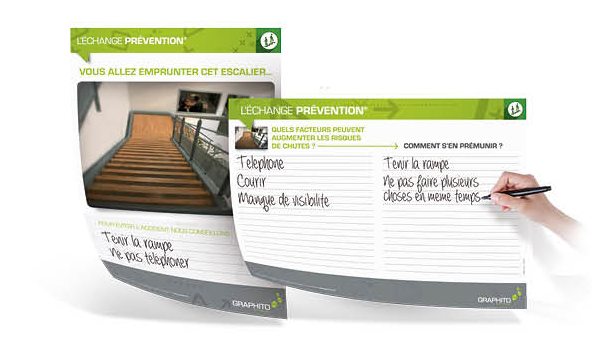 Leading a participatory safety ritual cannot be improvised. We train your managers in the acquisition of animation skills to lead participatory and successful safety rituals (safety visit, safety talk…).