PREVENLINE®

Prevenline® is an on-line secured platform aiming to train, animate and manage prevention. It is a user-friendly platform, very simple to set up and utilize.
Several different and autonomous applications to build your own customized pedagogic trainings with the possibility to use:
Graphito's existing educational material (more than 30 themes and 150 material),
Tailor made material,
your own existing material.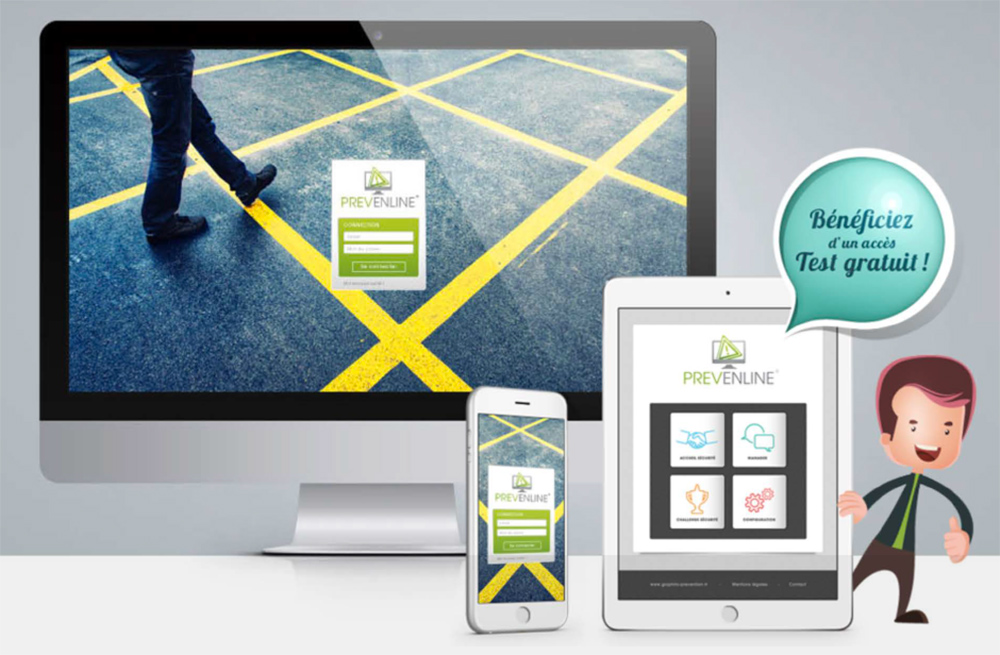 Induction application
Induction application
Manage online the induction of your new comers.
24/24 – 7/4
Large choice of material
Personalized training pathways according to your employee's activity and risks
Fun and interactive material
Precise monitoring of the results Manager
Manager
Prevenline® is a powerful tool enabling you to monitor and obtain detailed reporting for an efficient analysis of your safety rituals.
Prevenline® Application Manager enables you to monitor:
The number of participants in managers' actions
The main topics covered in safety rituals
The number of rituals facilitated by managers
The number of managers who have facilitated rituals
The number of safety visits
The number of visit follow-up requests
The number of coaching sessions Online Challenge
Online Challenge
Organize safety competitions between your teams
Possibility to play individually or in groups
Large choice of pedagogic materials
Dynamise and reinforce your safety messages in fun way,
Real time monitoring, traceability and scoring of the players
Découvrez le témoignage d'utilisateurs de Prevenline®
Avec PREVENLINE®, nous avons simplifié l'accueil sécurité de nos employés. C'est rapide, pratique et cela permet à un travailleur d'être opérationnel très rapidement.